Ajanta Caves in Maharashtra, India are rock-cut cave monuments dating from the second century BCE, containing paintings and sculpture considered to be masterpieces of both "Buddhist religious art" and "universal pictorial art". The caves are located just outside the village of Ajintha in Aurangabad District, just 40kms from Jalgaon city in the Indian state of Maharashtra. The Ajanta Caves have been a UNESCO World Heritage Site since 1983.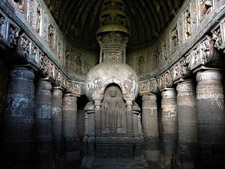 History
These caves were discovered in AD 1819 and were built up in the earlier 2nd century BC-AD. Most of the paintings in Ajanta are right from 2nd century BC-AD and some of them about the fifth century AD and continued for the next two centuries.
What to see
There are 30 caves in Ajanta of which 9, 10, 19, 26 and 29 are chaitya-grihas and the rest are monasteries. All paintings shows heavy religious influence and centre around Buddha, Bodhisattvas, incidents from the life of Buddha and the Jatakas. The paintings are executed on a ground of mud-plaster in the tempera technique.

All the rock-cut caves had paintings on verandahs, inner walls and ceilings, these revealed some of the most beautiful masterpieces of world art.

In the grottos were also symbolic Buddhist mounds called Stupas, and cells for monks called viharas. There were giant sculptures of Buddha's, Bodhisattvas (potential Buddha's), or Taras (female Buddhist divinities), as also dwarapalas (doorkeepers).

At Ajanta, the paintings on the walls, illustrate the events in the life of prince Gautama Buddha, the founder of Buddhism and in the more popular Jatakas stories pertaining to Buddha's previous incarnation. According to the older conceptions, the Buddha wrought many deeds of kindness and mercy in a long series of transmigration as a Bodhisattva, before achieving his final birth as the sage of sakyas.

Incidentally they contain the scenes of semi-mythological history, the royal court and popular life of the ancient times, as told in romances and plays. Some pictures recall the Greek and Roman compositions and proportions, few late resemble to Chinese manners to some extent.

But majority belongs to a phase, which is purely Indian, as they are found nowhere else. These monuments were constructed during two different periods of time separated by a long interval of four centuries. The older ones were the product of last to centuries before Christ and belong to Hinayana period of Buddhism in later part of 2nd century AD when Buddhism was divided into two sections, after the conduct of the fourth general council under another great king, Kanishka.
For detailed description of each cave, please visit