Phensang monastery is located in Gangtok, the capital of Sikkim, on a slope which stretches from Kabi to Phodong. The founding of this monastery goes back to the year 1721, in the period of Jigme Pawo.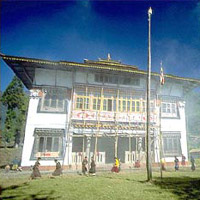 It belongs to the order of Nyingmapa and is used as residence for an estimated three hundred monks belonging to the same order. However, the journey of the monastery from the 18th century till today had not been pleasant. In 1957, Phensang Gompa was devastated by a fire which burnt it to the ground.

However, the lamas in the monastery put in much efforts to rebuild it again. In 1948, their hard work paid off and the monastery was again resurrected.

Phensang holds an annual festival on the 28th and 29th day of the tenth month of the Tibetan lunar calendar (usually in December). Sacred dances are carried out during this festival, which takes place during two days before the Sikkimese new year.
Fast Facts
Location
Gangtok, Sikkim.
Belongs To: Nyingmapa Order.
Founded In: 1721 (during the time of Jigme Pawo).