Thiksey Gompa of Ladakh is situated at a distance of approximately 18 km from the town of Leh. One of the most beautiful monasteries of Ladakh, it belongs to the Gelukpa Order of Buddhism.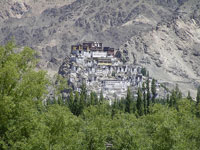 Sherab Zangpo of Stod got the Thikse Monastery built for the first time, at Stakmo. However, later Spon Paldan Sherab, the nephew of Sherab Zangpo, reconstructed the monastery in the year 1430 AD. The new monastery was sited on a hilltop, to the north of Indus River.

Thikse Monastery of Leh Ladakh houses a temple, known as Lakhang Nyerma. This temple, built by Rinchen Zangpo, the Translator, is dedicated to Goddess Dorje Chenmo. A huge temple in its time, today it stands mostly in ruins. Apart from this temple, there are a number of other sacred shrines inside the monastery complex. The monastery also has a rich collection of numerous valuable artifacts and ancient relics.
Maitreya Buddha at Thiksey Monastery, Ladakh, India >>
Thiksey Gompa serves as the residence of approximately eighty monks. It has been served, for quite a long time, by the successive reincarnations of the Skyabsje Khanpo Rinpoche. The monastery also plays the host to Gustor ritual, organized from the 17th to 19th day of the ninth month of the Tibetan calendar. Sacred dances also form a part of this ritual, which takes place on an annual basis.
Location
Approximately 18 km from Leh.
Belongs To: Gelukpa Order.
Founded By: Spon Paldan Sherab, nephew of Sherab Zangpo.
Founded In: 1430 AD.
Highlights: One of the most beautiful monasteries of Ladakh.
Festivals: Gustor Festival.