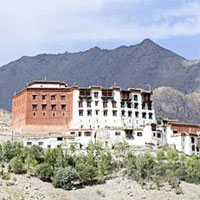 Phyang Monastery of Ladakh is situated at a distance of approximately 40 km to the west of the Leh town. It belongs to the Red Hat Sect of Buddhism. The site where the monastery now stands was once a part of the numerous monastic properties, offered during the time of Dharmaraja Jamyang Namgial to Chosje Damma Kunga. The hill of Phyang served as the venue of a monastery, known as Tashi Chozong, established in the year 1515. A monastic community was introduced to the monastery and with this started, the first establishment of the Digung teachings in Ladakh.

The traditions of the Digung teachings began with Skyoba Jigsten Gonbo. In the present time, the Phyang Gompa of Leh Ladakh is under Apchi Choski Dolma. The monastery is served by the successive reincarnation of Skyabje Toldan Rinpoche. There are a number of sacred shrines situated inside the monastery complex. Also, there are some exquisite wall paintings, dating from the royal period, adorning the monastery.

Another attraction of Phyang Gompa is its 900 years old museum. Its rich collection boasts of numerous idols, thankas, Chinese, Tibetan and Mongolian firearms and weapons, etc. The festival of Gang-Sngon Tsedup is held every year from 17th day to 19th day of the first month of the Tibetan calendar. The monastery also serves as the venue of the sacred dances, held every year on the 2nd and 3rd of the 6th month of the Tibetan calendar.
Location
Approximately 40 km to the west of Leh.
Belongs To: Red Cap Sect.
Founded By: Chosje Damma Kunga.
Founded In: 1515.
Festivals: Gang-Sngon Tsedup festival and sacred dance festival.