When Maha Kassapa, the Buddha's successor, realised that his life was drawing to a close he set out for Kukkutapadagiri, his favourite mountain resort. When his progress to the peak was hindered by rocks he struck them with his staff and they opened to let him through. On arriving at the summit a cavity opened in the rocks, he entered, fell into a deep meditative trance and the rocks closed around him.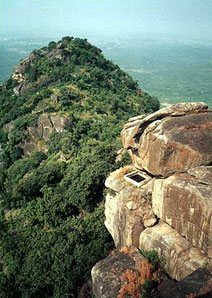 << Gurpa's main peak
Legend says that in the distance future when Maitreya appears in the world he will come to Kukkitapadagiri, awaken Maha Kassapa, receive the Buddha's robe from him and then begin to announce the new dispensation. This sacred mountain is now called Gurpa.

When you arrive at the village of Gurpa, cross the railway line and take one of the paths that lead to the mountain. From its foot a rough and rather steep path leads up. This path will eventually stop at the base of a sheer cliff which has a huge narrow crack in it. Enter this crack and proceed upwards. Don't forget to bring a torch, you'll need it. After emerging from the dark into the open again keep climbing and soon you will come to another cave.
This may be the place where Asanga spent many years meditating. Leaving this cave and continuing to climb you will soon arrive at the summit where their there are several Hindu shrines and a few Buddhist antiquities.

The view from the top is breathtaking and the whole place is very conducive to meditation. This is a wonderful place to read and reflect on Maha Kassapa's beautiful and evocative 'Ode to the Mountains' from the Theragatha. A translation can be found in K R Norman's Elder's Verses published by the Pali Text Society.

For more details about Gurpa and its history you can also read my 'Where Maha Kassapa Waits' in The Middle Way, London, February 1998. To get to Gurpa take the Fatipur road from Gaya via Fatipur to Gurpa, a distance of about 33 kilometres over fairly good roads. It will be a long days journey from Bodh Gaya so leave early.