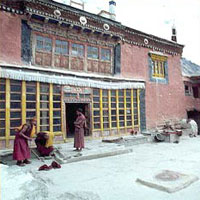 The Rangdum Gompa of Ladakh was founded in the 18th century. Situated in the Zanskar region of Ladakh, it serves as the residence of approximately 40 monks. The monastery rises over a centrally ascending mound, entrenched around by the bifurcated route of a mountain stream. The Rangdum Gompa of Ladakh gives the appearance of an age-old fortification, which is standing as the protector of a mystical mountain valley.

One of the major attractions of the monastery is its small museum. It boasts of a rich collection of fascinating Tibetan as well as other relics. The Rangdum Monastery of Leh Ladakh owns the entire valley around it, comprising of the fields tilled by the villagers, the pastures, hills and even the streams. The villagers staying around the monastery are the descendents of the serf-tenants of the monastery and do not have any land of their own.
Location
Near Zanskar.
Founded In: 18th century.