Zongkul Monastery is a cave monastery located in Zanskar. It stands perched on the rock face of the Ating gorge.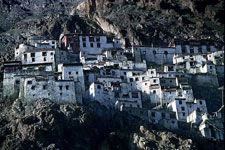 There is an interesting legend associated with the Zongkul Monastery of Ladakh. It is said to be connected with Naropa, the famous Indian Yogi from Vikramshila. Infact, it is believed that he even used the two caves of the monastery for the purpose of his solitary meditation. Even today, one can see Naropa's footprint embedded in the rock and his sacred spring, located inside the meditation cave.

After Naropa meditated here, the monastery became the sacred place of meditation for all the mahasiddhas of Zanskar. Enlightened people like Dubchen Kunga Gyatso, Dubchen Nawang Tsering, Dzadpa Dorje, Karmapa, Kunga Choslag, etc have used Zongkul for meditation purposes. The Zongkhul Gompa of Leh Ladakh consists of a number of blessed shrines.

It also boasts of a rich compilation of precious artifacts, like ivory image of Samvara, a crystal stupa, texts containing the spiritual songs and biographies composed by the successive mahasiddha, etc.

Not to be missed are the splendid murals, made by Zhadpa Dorje almost 300 years ago.
Location
Zanskar.
Founded By: Naropa, an Indian Yogi from Vikramshila.