Chemrey Gompa (Monastery) was founded in the 17th century by Lama Tagsang Raschen. Situated at a distance of approximately 40 km to the east of the town of Leh, this monastery belongs to the Drugpa Order.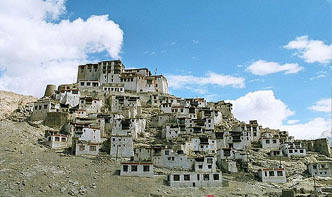 << Chemrey Gompa
It serves as the residence of about 20 monks of the Drugpa community - which has been diminishing in numbers, as well as their young apprentices. Chemrey Gompa was built initially to serve as a memorial to King Sengge Namgyal. There are a number of shrines situated inside the monastery.

One of the major attractions of this Gompa is the one-story high image of Padmasambhava. Other than that, the monastery also has a collection of precious scriptures, ancient texts that have title pages plated in silver and the text embossed in gold letters. For a long time, the successive reincarnations of Lama Tagsang Raschen have served as source of resident incumbents for Chemrey Gompa.

The monastery is also the venue for annual the festival of sacred dances. The festival takes place, on the 28th and 29th day of the 9th month of the Tibetan calendar. The dances, at this annual festival, are performed in association with the festival of an initiatory ritual.
Location
Approximately 40 km to the east of Leh.
Belongs To: Drugpa Order.
Founded By: Lama Tagsang Raschen.
Founded In: 17th Century.
Highlights: One-story high image of Padmasambhava.