This village is on the site of what was once a very large and important Buddhist monastery, probably the Kapotaka Vihara visited by Hiuen Tsiang. Just outside the village and besides the lake is a fine Buddha statue nearly 10 feet high calved out of shiny black stone. The temple in the village of Tetrawan, a few kilometres to the south contains an astonishing collection of beautifully calved Buddhas and bodhisattvas.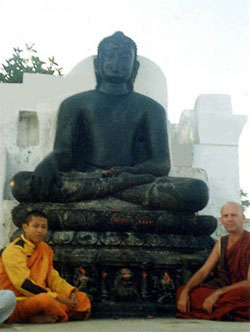 << Statue at Tetrawan
To get to Ghosrawan go south from Rajgir to the Hisua and then turn left to Nawada where there is a rundown museum with a small collection of Buddha statues found in the area.

It is open from 10 am to 5 pm and closed on Monday. From there head north to Pawapuri, the birth place of Mahavira, known in the Tipitaka as Nigantha Nataputta, where there is a beautiful temple in the middle of a lotus lake.

If you need accommodation you can stay in the Jain pilgrims' rest. At Pawapuri ask for directions to Ghosrawan. It is about 5 kilometres away over very bad roads.