Kardang Monastery at 3500 m is about 5 km from Keylong across the Bhaga river. It is believed to be built in 12th century. Kardang village was once the capital of Lahaul. Today, Kardang Gompa is the oldest monastery in the remote Lahaul valley.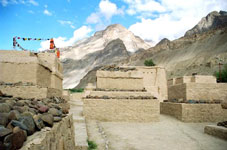 The monastery has a large library of Kangyur and Tangyur volumes of Budhist scriptures in Bhoti.

The Kangyur or "Translated Words" consists of works in about 108 volumes supposed to have been spoken by the Buddha himself. All texts presumably have a Sanskrit original, although in many cases the Tibetan text was translated from Chinese or other languags.

The Kangyur is divided into sections on Vinaya, Perfection of Wisdom Sutras, other sutras (75% Mahayana, 25% Nikayan or Hinayana), and tantras. When exactly the term Kangyur was first used is not known. Collections of canonical Buddhist texts existed already in the time of Trisong Detsen, the sixth king of Tubo, who ruled from 755 until 797CE.

The exact number of texts in the Kangyur is not fixed, each editor takes responsibility for removing texts he considers spurious, and adding new translations. Currently there are about 12 available versions of the Kangyur. These include the Derge, Lhasa, Narthang, Cone, Peking, Ugra, Phudrak, and Stog Palace versions, each named after the physical location of its printing. In addition some canonical texts have been found in Tabo and Dunhuang which provide earlier exemplars to texts found in the Kangyur. All extant Kangyur appear to stem from the Old Narthang Monastery Kangyur. The stemma of the Kangyur have been well researched in particular by Helmut Eimer.

Meanwhile the Tangyur or "Translated Treatises" is the section to which were assigned commentaries, treatises and abhidharma works (both Mahayana and non-Mahayana). The Tangyur contains around 3626 texts in 224 Volumes.