Pemayangtse monastery is located in the town of Pemayangtse of Sikkim, India. It is located roughly 140 kilometers to the west of Gangtok.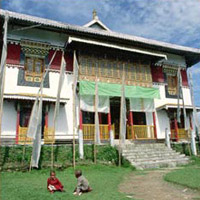 Perched on a hill at 6,840 ft, it is one of the oldest monasteries in Sikkim. Lama Lhatsun Chempo had the monastery built mainly for "ta-sang" lamas (purest of the monks). However, with time, the monastery began to serve the whole community. Pemayangtse Gompa of India is praised for its splendid collection of ancient Buddhist ancient idols, scriptures as well as sculptures.

Splendid sculptures and elegant paintings decorate the first floor of the monastery. One of principal attractions of Pemayangtse monastery is the painted seven tiered timber structure depicting the Heavenly Palace "Santopalri" of Guru Rimpoche. The late Dungzin Rimpoche took five years to complete this structure by himself. Currently, it is located on the highest floor of the monastery. The Chaam (monk dance) is held each year on the 28th and 29th day of the 12th month of the Tibetan lunar calendar.

The lamas also take part in the dance and the dress in colourful costumes to represent Mahakala and Guru Drag-dmar. The dance ends on the third day with the unfurling of the Ghyo-Ku and the colossal embroidered Buddhist scroll.
Fast Facts
Location
Approximately 140 km to the west of Gangtok, Sikkim.
Founded By: Lama Lhatsun Chempo.
Festivals: Chaam (monk dance).