Bomdila Monastery, located in the state of Arunachal Pradesh, goes back to the year 1965. It owes its beginning to the 12th reincarnation of Tsona Gontse Rinpoche, who had this monastery built before his death in the 1966.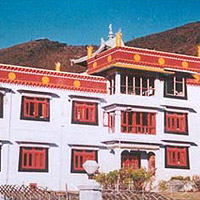 The monastery of Bomdila is a copy of the Tsona Gontse monastery located at Tsona in South Tibet. The principal prayer hall of the monastery was added later on by the 13th reincarnation of Tsona Gontse Rinpoche. This hall was later sanctified by His Holiness, the 14th Dalai Lama in October 1997.

Independently from the prayer hall, Bomdila monastery also comprises the Buddha temple and residential rooms for the monks. It is also called the Gentse Gaden Rabgyel Lling Monastery and is one of the most important centers of the faith of Lamaistic of Mahayana Buddhism.
Fast Facts
Location
Bomdila, Arunachal Pradesh.
Founded In: 1965.
Founded By: 12th reincarnate of Tsona Gontse Rinpoche.