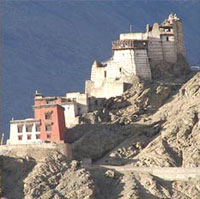 Namgyal Tsemo Gompa was founded in the early 15th century, around the year 1430. It stands atop the crag behind Leh palace, having a full view of the town of Leh. And because of this position, it offers some of the most splendid visuals of the town. The Namgyal Tsemo Gompa of Ladakh was founded by King Tashi Namgyal and has been named after him only. It boasts of a rich collection of some ancient manuscripts and wall paintings.

One of the most treasured possessions of the monastery is a three-story high solid gold idol of Maitrieya Buddha (future Buddha, also known as the laughing Buddha). Namgyal Tsemo Monastery of Leh Ladakh also houses a statue of Avaloketesvara and Manjushri, approximately one story high. Near the monastery is an old fort, which, because of neglect, lies mostly in ruins now.

Also in the vicinity, are a number of associated temples. These temples remain open only during morning and evening. When the temples open up, a monk from the Sankar Gompa comes to attend to the butter-lamps in front of the images.
Location
Leh.
Founded By: King Tashi Namgyal.
Founded In: 1430.
Highlights: A three-story high gold idol of Maitrieya Buddha, ancient manuscripts and frescoes.