Ralang Monastery is located in the southernmost area of Sikkim. It is situated about 6 kilometers from Ravangla. There is interesting history related to the construction of the monastery.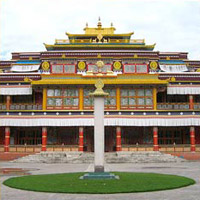 After fourth Chogyal returned from his pilgrimage, the Karmapa carried out a Rabney (blessing). As required in the ceremony, he threw grains obtained from the Tsurphu Monastery in Tibet (the principal head office of Karmapa). Thereafter it was decided, upon the ground where the grains fell, that it would become the site for the monastery of Ralang. The monastery belongs to the order of Kagyupa.

Ralang is one of most significant monasteries and the most blessed in Sikkim. It is used as residence for an estimated 100 monks. The monastery went through extensive rebuilding work from 1975 to 1981.

Then, in 1995, new a monastery, known as the Monastic Institute of Palchen Choeling was constructed. Built by the 12th Gyaltsab Rimpoche, the monastery continued to maintain the great tradition of Tibetan architecture. One of principal attractions of Ralang Gompa is its astonishing collection of paintings.

Ralang Monastery plays host to an annual festival called Pang Lhabsol or the worship of Mount Khangchendzonga and Kagyad. Chaam masked dances are also organized each year on the 15th day of the seventh month of the Buddhist calendar (August-September) and the 29th day of the tenth month of the Buddhist calendar (December). The sacred dance of Mahakala takes place each year in November.
Fast Facts
Location
Approximately 6 km from Ravangla, Sikkim.
Belongs To: Kagyupa Order.
Festivals: Pang Lhabsol.