Dhankar Gompa is a Buddhist monastery located in the valley of Spiti. It is perched on a hill at 12.774 feet and straddles between the towns of Kaza and Tabo.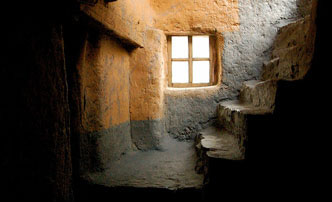 << Stairs leading to an upper-level courtyard inside Dhankar Gompa
Dhankar was the former capital of the kingdom of Spiti valley during the 17th century. The monastery was built about a thousand years ago. One of principal attractions of the monastery of Dhankar is statue of Vairochana (Dhayan Bouddha), being composed of 4 figures posing back to back. It also has a collection of various thankas that is crumbling.

Located around 1 kilometer from Dhankar Gompa is the village of Shichilling, the site of the new Dhankar monastery. The new monastery belongs to the Gelugkpa school of Order and it is used as residence for about 150 monks. In the south of the gompa is a national park, where you could catch the sight of the snow leopard.