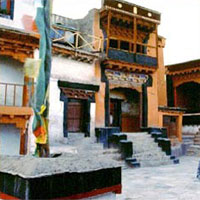 Lama Dugpa Dorje founded the Matho Gompa of Ladakh in the 16th century. It is situated on the opposite bank of the River Indus, at a distance of approximately 26 km to the southeast of Leh town. Matho is the only gompa of Ladakh that belongs to the Saskya order of Tibetan Buddhism. The oracle of the monastery is a priest, who resides in the monastery itself. Also situated near the monastery, are a number of sacred shrines, of which one is dedicated to the guardian deities.

Matho Monastery of Leh Ladakh hosts the Matho Nagrang Festival, on an annual basis. The festival takes place on the 14th and 15th day of the first month of the Tibetan calendar. All the monks participate in the sacred dances, performed at this annual event. It is believed that, during Matho Nagrang Festival, two gods, known as the Rongtsan, descend to visit the monastery. Matho Monastery also boasts of housing an amazingly rich collection of four hundred years old Thankas.

On the right side of the monastery courtyard, is the entrance to the Dukhang (the main assembly hall). Paintings of the Guardians of the Four Directions adorn the verandah of the Dukhang. Inside are two rows of seats for the lamas, along with a throne seat that is reserved for the Rimpoche, the head lama of Matho. There are four statues behind the throne seat, that of the thousand-armed Avalokitesvara, Maitreya, Sakyamuni and a blessing Buddha. The entrance wall displays Mahakala, the fiercest Buddhist guardian divinity, on the left and other protecting deities, on the right.
Location
Approximately 26 km to the southeast of Leh.
Belongs To: Saskya Order.
Founded By: Lama Dugpa Dorje.
Founded In: 16th Century.
Highlights: Four hundred years old Thankas.
Festivals: Matho Nagrang Festival.