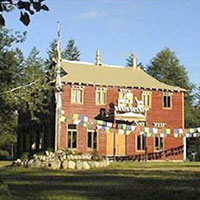 Takthok Monastery of Ladakh is situated in Sakti Village, at a distance of approximately 46 km from the town of Leh. The site where the monastery is now situated, once served as the meditation cave of Mahasidhas "Kunga Phuntsog". The name Takthok literally means 'rock-roof'. The monastery was so named, as both its roof as well as walls are made up of rock. Tak Thok belongs to the Nying-ma-pa sect of Buddhism, also known as the Old Order, and serves as the residence of approximately 55 lamas.

It is the probably the only Gompa in Ladakh that follows this order. Every year a festival is held at the Tak Thok Gompa of Leh Ladakh, on the 9th and 10th day of the sixth month of the Tibetan calendar. Celebrations of the festival include sacred dances and the ceremony of hurling a votive offering. To the left of the central courtyard is the cave chapel of the monastery. Opposite the chapel are the images of Padme Sambhava and Avalokitesvara. There is a small cave behind these images, believed to the place where Padme Sambhava lived and meditated for three years.

On the right of the central courtyard, lies the Dukhang or the main assembly hall. Murals of guardian divinities adorn the verandah entrance to the Dukhang. But, they are displayed only at the time of the annual festival of the monastery. There is a throne inside the Dukhang, reserved solely for the Dalai Lama. It is situated just opposite to the Dukhang entrance. The wall to the left of the throne stands decorated with the mural of Padmasambhava, while the one on the right has a painting of Sakyamuni.

Also inside the Dukhang, are the statues of Maitreya (the Future Buddha or Buddha of Compassion), Padmasambhava and Dorje Takposal (a manifestation of Padmasambhava). Takthok Monastery also houses the Kandshur, the 108 volumes of Buddha's teachings.
Location
Sakti village, approximately 46 km to the west of Leh.
Belongs To: Nying-ma-pa sect of Buddhism.