Hemis Monastery is regarded as being the biggest as well as the wealthiest monastery of Ladakh. It was founded by the first incarnation of Stagsang Raspa Nawang Gyatso, dating back to the year 1630.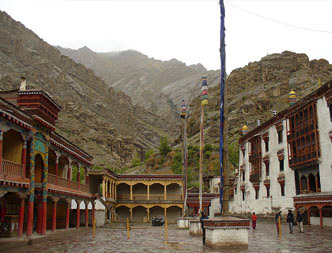 << Hemis Gompa
Hemis Monastery is located inside a gorge, and lies at a distance of approximately 47 km from Leh. Belonging to the Dugpa Order, it stands on the western bank of the Indus River. The monastery is also known for its rich collection of ancient relics.

The monastery holds a number of religious items, consisting of a copper-gilt statue of the Lord Buddha, various gold and silver stupas, sacred thankas and several other exquisite objects.

Situated slightly higher than the Hemis Gompa, Gyalwa Gompa is a sacred hermitage, founded by Gyalwa Kotsang. The meditation cave of Gyalwa, along with his footprints and handprints on the rock and sacred shrines, still bring back memories of the founder's life.

The Hemis Monastery also serves as host of an annual festival, known as the Hemis Festival. This festival is celebrated as a commemoration of the birth anniversary of Guru Padmasambhava. During this festival, the thangka of the monastery is displayed, with a gap of twelve years between each successive displays. The Thanka is the sacred appliqué-work tapestry created with pearls, which depicts Guru Padmasambhava.

The festival also showcases the sacred mask dance that is performed at the monastery every year. The dance takes place on 9th and 10th day of the fifth month of the Tibetan calendar.
Location
Approximately 47 km from Leh.
Belongs To:
Dugpa Order.
Founded By:
First incarnation of Stagsang Raspa Nawang Gyatso.
Founded In:
1630.
Appeals:
Biggest and wealthiest monastery in Ladakh.
Festivals:
Annual Hemis festival, Sacred Dance Festival.