Stongdey Monastery of Ladakh is considered to be the second largest monastic institution in the Zanskar region. It is situated on the road to Zangla, at a distance of approximately 18 km to the north of Padum.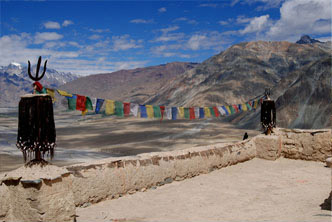 << Stondey Compa
The Stongde Gompa located in Leh serves as the residence of approximately 60 monks. Founded in the year 1052 by Lama Lhodak Marpa Choski Lodos, the monastery comes under the Tsongkhapa Order. The incumbents serving at Stongdey are the successive reincarnations of Nari Tulku.

The main prosperity of the Stongdey Monastery came under the influence of Shakya Zangpo, of Stongdey itself. There are a number of beautiful temples situated inside the complex of the monastery.

Another major attraction of the monastery consists of the gorgeous wall paintings adorning its interiors. Stongde also serves as the venue of Gustor festival, an annual festival that takes place on the 28th and 29th day in the eleventh month of the Tibetan calendar. On the day of the festival, the monks perform the sacred dance in the monastery.
Location
Approximately 18 km to the north of Padum.
Belongs To: Tsongkhapa Order.
Founded By: Lama Lhodak Marpa Choski Lodos.
Founded In: 1052.
Highlights: Second Largest Monastic Institution in Zanskar.
Festivals: Gustor Festival.