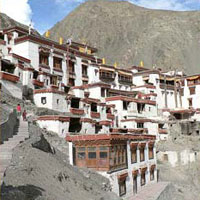 The Rizong Gompa of Ladakh was founded by the great Lama Tsultim Nima in the year 1831. It belongs to the Gelukpa Order, and is situated at a distance of approximately 73 km from the Leh town. The monastery serves as the residence of approximately 40 monks. However, they have to follow some very strict rules. The inmates of the monastery are not permitted to have anything on their person, except for religious robes and books. Rizdong Monastery of Leh Ladakh consists of a number of shrines inside its complex.

The gompa also has quite a rich collection of the painting blocks of Lama Tsultim Nima's biography as well as a number of objects made and books composed by the first Sras Rinpoche. Serving as the incumbents of the Rizdong Monastery, are the successive reincarnations of Lama Tsultim Nima and his son, Sras Rinpoche. A nunnery, known as Chulichan (Chomoling) is located near the monastery, at a distance of approximately 2 km.

Comprising of about 20 nuns, the nunnery is under the control of the governing body of Rizong Monastery only. The nun, known as Chomos, worship at the temples of the monastery itself. They also perform a number of chores for the monastery like spinning wool, milking, extracting oil for the temple lamps, etc.
Location
Approximately 73 km from Leh.
Belongs To: Gelukpa Order.
Founded By: Lama Tsultim Nima.
Founded In: 1831.