Rewalsar (also spelled Rawalsar) is a town located in the Mandi district of Himachal Pradesh. It is sits at an altitude of 1360 m above sea level. It is connected to Mandi by a motorable road and is about 25 km from Mandi. Lying in the Southern Himalayan belt, winters in Rawalsar can be freezing, while summers are generally pleasant.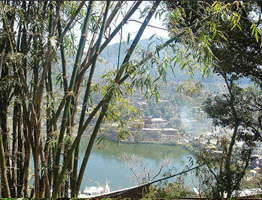 << Rewalsar lake, Himachal, which the Buddhists call "Tso Pema" or Lotus Lake. It's long been associated with a legend about Guru Rinpoche, nd many Tibetan monasteries have sprung up there, including one 100-year-old Nyingma monastery. At more than 100 years of age, it pre-dates the Tibetan exile and Dalai Lama's arrival in India.
Its famous Rewalsar lake (Tso Pema) is associated with Padmasambhava (also known as Guru Rinpoche), a Buddhist monk. One version of a legend has it that the king of Mandi had Padmasambhava burnt alive after rumours that the monk had flirted with the king's daughter. The lake appeared at the spot where the monk was burnt and Padmasambhava manifested himself from within a lotus in the middle of the lake.
The king, repenting his actions, married his daughter with Padmasambhava. It was from Rewalsar that Padmasambhava went to Tibet to spread Mahayana Buddhism.

The Tsechu fair was held in Rewalsar in 2004 to commemorate the birthday of Padmasambhava. The fair was inaugurated by the Dalai Lama and was attended by Urgyen Trinley Dorje Karmapa along with 50,000 other Buddhist pilgrims. The fair was held after a gap of 12 years.

There are other versions that mention that the lake associated with Padmasambhava's birth was located in Pakistan or Afghanistan. However, Rewalsar came to be known as a sacred place for Buddhists and two monastries - the Drikung Kadyud Gompa and Tso-Pema Ogyen Heru-kai Nyingmapa Gompa are located here.