Enchey monastery is located in Gangtok, the capital of Sikkim. The monastery is roughly two hundred years old and follows the Nyingma Order. "Enchey Monastery" means "the solitary temple".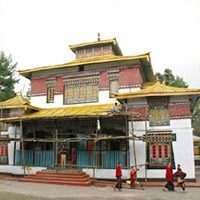 The monastery was built with the intention that no other construction sites was close by to it. It is believed that the monastery was built on the site blessed by Lama Drupthob Karpo, a tantric master famous for his power of flight. It is also said that the Lama built a small hermitage at the site of the monastery after he came here from Maenam Hill in Southern Sikkim.

A Chinese pagoda was given to the monastery during the reign of Sikyong Tulku (1909-1910). Enchey Gompa of India is also used for residence of roughly 90 monks of the Nyingma order. The monastery has splendid images of the gods, goddesses and of a certain number of religious objects. Each year a puja is held at the monastery, on the 18th and 19th day of the 12th month of the lunar calendar. Spirutual dances are performed during these periods. January is the time for "Chaam" or religious dances with masks at the monastery.
Fast facts
Location
Gangtok, Sikkim.
Belongs To: Nyingma Order.
Founded By: Lama Drupthob Karpo.