Alchi Gompa dates back to the year 1000 AD and was built by Rinchen Zangpo, a well known translator. He even made a reference about the monastery in his biographies.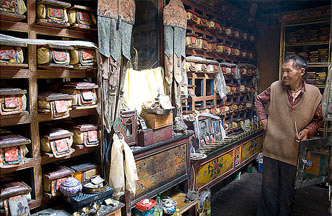 << Alchi Gompa Library
It is written that he brought thirty-two sculptors and wood carvers from Kashmir, for the construction of the Alchi Monastery of Leh Ladakh. The monastery is sited at a distance of approximately 67 km to the west of Leh. One can easily see an Indian touch in the construction of this monastery, especially in the way its paintings have been made.

Three sacred temples, with the main one being that of Rinchen Lhakhang at Lotsa Lhakhang, make up a major part of the Alchi Gompa of Ladakh. However, there are other temples also, namely Jamyang Lhakhang (Manjusri temple), Sumtsag Lhakhang and so on.

There are a number of images inside the monastery. However, the main attraction is that of Vairocana. The other images include the ones of the five Buddha Families, along with their attendant deities.
Location
Approximately 67 km to the west of Leh.
Founded By: Rinchen Zangpo.
Founded In: 1000 AD.