Tashiding Monastery is located in Sikkim, about 40 kilometers from Gyalshing and 19 kilometers to the south-east of Yoksum.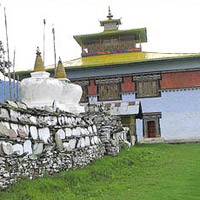 Situated on the hill rising between Rathong river and Rangit river, it provides amazing sights of the landscape below. Tashiding Gompa of India goes back to the year 1717, which coincided with the reign of third Chogyal Chakdor Namgyal. It is located on the site blessed by the great Guru Padmasambhava.

The legend associated with the monastery goes that Padmasambhava drew an arrow in the air to choose the place where it would sit down to meditate. The place where the arrow fell, thereafter, became the site of the monastery of Tashiding.

Built by Ngadak Sempa Chembo (one of the three wise men who consecrated the ceremony of the first lama), Tashiding Monastery belongs to the order of Nyingmapa. The principal temple of the monastery was rebuilt quite recently. It is encircled by traditional buildings, chortens and the mani (stone dishes).

Mani stand with sacred Buddhist inscriptions like "Om mani Padme Om". The stone dishes are the work of the master craftsman, Yanchong Lodil. The chortens, preserving the relics of Sikkim Choygal and lamas, sits at the remote end of the complex. Out of the many chortens, the most significant one is the "Thong-Wa-Rang-Dol" which means "saviours only by sight". This chorten supposedly cleans the heart of any person who looks at it.

The annual festival of the monastery, known as the Bumchu ceremony, is held on 14th and 15th day of the first month of the calendar Tibetan. The ceremony, usually carried out at midnight, attract devotees from far and near.
Fast facts
Location
Approximately 40 km from Gyalshing and 19 km to the south east of Yoksum.
Belongs To: Nyingmapa Order.
Founded In: 1717.
Founded By: Ngadak Sempa Chembo.
Festivals: Bumchu Ceremony.