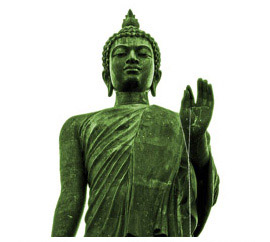 << Buddhamonthon is an important religious site built by the Thai government and the people to commemorate the 2500th year of the existence of the Buddha.
Buddhamonthon, which literally means 'Buddhist town', is considered to be the most important of the kingdom's Buddhist sites. Construction of Buddhamonthon began on Vesakha Day in 2500 B.E. to mark the 2500 year anniversary of the founding of Buddhism.

The ancestral site and centre of Buddhist practice is set on 2,500 rai of land straddling the sub-district of Sallaya, Nakhon Chaisri district and Rateuk sub-district, Sampran district. A vast variety of trees and plants have been planted on the site.

An important Buddhist ancestral site, statues and sculpture depict various stages in Lord Buddha's life, following the Cycle of Birth through to Enlightenment, Lord Buddha's first sermon (pathomtessana) and Nirvana.

Buddha images in various mudra or postures (prang).

Phrasrisakayatossayaanprataan-Buddhamonthon-Suthat, the principle Buddha image and focal point, provides spiritual inspiration.

Vipassana Buddhist meditation training is held every first Friday, Saturday and Sunday of the month.
Location
Buddhamonthon Office
25/25 M.6, Sallaya sub-district, Buddhamonthon district, Nakhon Pathom province 73170.
Tel:
0 2441 9009 & 0 2441 9012 |
Fax:
0 2441 9013
Website:
www.onab.go.th/bdm