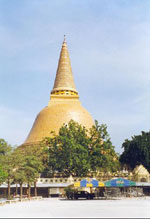 This impressive pagoda is 120 mt high and it has a 234 mt long circumference at the base. It is one of the largest (for sure the highest) in the world and it is the holiest buddhist monuments in Thailand.

The original building is more than 2000 years old and it dates back to the Dvaravati Buddhist period. In the 19th century the original bowl shaped pagoda has been covered by the actual huge orange tiled chedi.

The Phra Pathom Chedi is centrally located in Nakhon Pathom and it's impossible to miss it. Around the Chedi complex there is a lot of space, with some parks, in order to let the crowds of pilgrims easily reach the Pagoda. In the evening there are often some thai art performances in this area, especially during festivals.