The International Meditation Center at Jagwangsa was built to educate global leaders of Buddhism, following the last wishes of the Venerable Tanheo Sunim. He inherited the spirit of the Venerable Hanam Sunim, who was a great teacher of modern Korean Buddhism.
Located in Haka-dong (lit. the place where the crane came down) in Daejeon, Jagwangsa established the Tanheo Buddhist Cultural Foundation in 1984, in order to honor the wishes of Tanheo Sunim, who had entered nirvana. The foundation constructed a Buddha hall and the Tanheo Museum that exhibits his remains, and contributed to Jagwangsa's development into a dignified Avatamsaka (Hwa-eom) temple.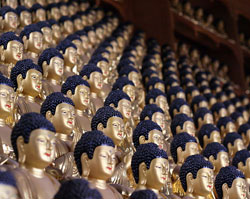 << Photo: Jagwangsa 3000 Buddha
The temple is noted for its monthly English dharma talks where foreign monks and nuns are invited to teach lay Buddhists. It is also running many programs; the citizens' Seon (Jap: Zen) center, small group studies, a variety of training programs, and a temple stay program just for foreigners. The late Tanheo Sunim called Jagwangsa 'Central Pillar of the World,' and pushed forward numerous Buddhist projects here. Following his wishes, the temple has been dedicated to educating Buddhists of talent. The effort bore fruit with the establishment of the International Meditation Center at Jagwangsa in May 2004.

The center emphasizes the common practice of the Fourfold (Sabudaejung, assembly of four groups) Community. At the Rotating Dharma Talks (Dollim Beophoe), laymen and laywomen take turns to give their dharma talks as well as monks and nuns. They also study Buddhism and modern sciences side by side. The center has created a system for independent management by lessening its reliance on a particular monk or nun or the temple.

It is developing into a practicing ground for the Fourfold Community, where people from all over the world can practice together, without being attached to any particular teacher, sangha, practicing tradition, or ethnicity. The center aims at creating a genuine global center for Seon practice, which enthusiastically supports its practitioners from abroad so that they can return to their home countries and spread their own attainment and aspiration.
Address
649 Hakhadong, Yu-seong-gu, Daejeon 305-360, South Korea.
Tel: 042-822-9220 | Fax: 042-822 8304 | Email: Jakwangsa@jakwangsa.org
Read Travel Tales