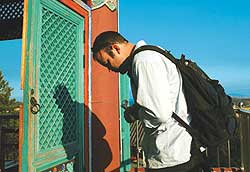 Unfortunately, reaching out and punching the snooze button on this early morning wake up call just isn't an option. Not only are there issues of guilt to deal with (should you ignore Buddha's voice in a Buddhist temple?), but there are practical ones as well: How do you silence a massive bell that is rung using a log suspended by ropes from the rafters of its very own rooftop platform without getting out of bed?

Perhaps some questions are never meant to be answered. Regardless, whether you're searching for spiritual enlightenment, or simply hankering to know just what does go on in a Buddhist temple, then the Korean Temple Stay program is for you.

Established in time for the finals of the 2002 FIFA World Cup soccer tournament, the program involves temples opening their doors to allow non-Buddhists (especially foreigners) to stay in the temple while experiencing Buddhist thought and culture.

"Korean Buddhism is a unique part of Korean culture," said Hae Il Shim, a temple stay coordinator at Jagwang Temple. "This program is for those who are interested in Buddhism. Here you can experience temple life, meditate, talk with monks and try to solve your problems."
A typical weekend visit to a Buddhist temple runs for 24 hours, starting on Saturday and finishing Sunday afternoon. It's an introspective experience, giving the visitor a glimpse of the solitary lives of Buddhist monks and nuns, while allowing them to participate in regular temple activities.

The Buddhist Experience
Programs may differ between temples but most will begin with a temple tour, tea ceremony and introduction to Buddhist instruments.

The Buddhist tea ceremony, a crucial part of being able to free your mind and focus on reflecting upon the world and yourself, involves learning the meaning of the complex tea preparation rituals and drinking etiquette. What follows is an introduction to the four Buddhist instruments used to awaken the enlightenment of all beings in the universe: a massive resonant bell, a large drum, a cloud-shaped copper plate and a wooden gong in the shape of a fish.

Once the session is finished, it's time for a world-renown "temple dinner." Temple meals are served three times a day in the temple dining area and include rice, soup and a selection of unseasoned vegetarian dishes. Sitting on the floor at low tables, everyone eats together in relative silence. While unique in taste and appetizing enough, those used to viewing meals as a celebration of food should be sure to bring "private snacks" for later in the evening as you'll probably need them.

And a word for the wise, if you enjoy a drink with dinner, not unlike the monks at Bongwon Temple in western Seoul (who reportedly drink alcohol and do almost anything normal monks cannot do), then you're out of luck. The consumption of alcohol on the grounds of a temple is forbidden, so keep your thirst in check for at least 24 hours.

After dinner, lotus lantern-making classes and Zen meditation lessons await.

Lotus lantern making is a thoroughly enjoyable craft making experience that helps to relax your mind, empty it of worldly thoughts while leaving you with red dye-stained fingers from the tissue paper. Surprisingly, it makes for an excellent warm up to sitting for an hour in the lotus position with your eyes open and back ramrod straight -- the goal is to empty your mind of thoughts while finding yourself and being enlightened to the meaning of life.

After meditation is finished, it's time for a Q and A meeting with the temple sunim (a respectful way to address a Buddhist monk or nun in Korea) before heading off to bed at 10 p.m. During this time, visitors are encouraged to ask questions or seek advice on Buddhism, personal problems or even the meaning of life.

According to Chong Ah Sunim, the abbot of Jagwang Temple, most foreigners enroll in the temple stay program because they want to see and experience the reality of Korean Buddhism.

"I am asked all kinds of questions," he laughed. "But discussing problems with monks and finding solutions for individual problems is another reason why foreigners visit a temple. Buddhism teaches you to see what you are and how to answer questions. This is how you can relieve stress from the outside," the sunim said.

A point that Frans Muller, 38, a tourist from South Africa who has stayed at several temples in Korea agrees with. "Ya, the monks gave me good advice about my problems. I've also learnt a lot about Korean culture and Buddhism," he added.

But at the 5 a.m. ceremony, pondering the wisdom of a monk's advice from the evening before is probably the furtherest thing from your mind as you commence the first of 108 bows, one for each of the anguishes or sufferings encountered throughout life's stages. Prostrating yourself on the ground 108 times to show respect to Buddha and your Buddhist self is an agonizing, but truly authentic experience for those interested in living like a monk.

For more information on the temples that participate in the Korean Temple Stay program, visit www.templestaykorea.com or call 02-732-9925~26.