Just north of the COEX Center, Bongeun-sa offers a quiet retreat from the hustle and bustle of crowded city life in the midst of busy and ultra-modern Samseong-dong of Gangnam-gu District. The temple is a major center for the Seon (Zen) sect of Buddhism, which focuses on meditation. Additionally, the Institute for Translating Sutras from Chinese into Korean was established here in 1972, and has produced many excellent translators.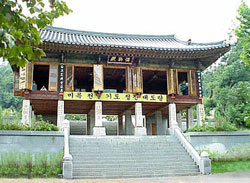 Established in 794 by Ven. Yeon-hoe (the National Master Monk of Unified Silla at that time), the temple was originally called Gyeonseong-sa (meaning "seeing true nature"). The temple was rebuilt in 1498 and renamed Bongeun-sa (meaning "offering benefit"). In 1562 it was moved about 1 km to its current location and rebuilt. Destroyed by fire in 1592 and 1637, it has been repeatedly rebuilt and renovated. The major restorations came in 1637, 1692, 1912, 1941, and 1981. A 3-story stone stupa enshrines the Sari of Sakyamuni Buddha, brought from Sri Lanka in 1975.

The temple fell into decline during the late Goryeo era, but was reconstructed in 1498 under the patronage of a Joseon Dynasty Queen and renamed Bongeun-sa. During the Joseon Dynasty (14th through 19th centuries), Buddhism fell under severe state-imposed oppression as the government maintained Neo-Confucianism as the sole state religion.

According to the strict social hierarchy of the time, monks were treated as the same social level as slaves and were not even allowed to enter the gates of the capital city. However, during the reign of King Myeongjong (1545-1567), Korean Buddhism's status changed. Since King Myeongjong was still too young to govern the nation, his Buddhist-inclined mother, Queen Munjeong, retained powerful political influence. With her strong support for the re-awakening of Buddhism, reconstructed Bongeun-sa became a cornerstone for early-Joseon Buddhist revival.

Ven. Bo-woo played a key role at this critical period. Being assigned as the Chief Monk of Bongeun-sa in 1548, Ven. Bo-woo revived an official system of training and selecting monks in both the Seon (meditation) and Gyo (doctrinal, scholastic) sects of Korean Buddhism (first established by National Master-Monk Jinul Bojo-guksa in the 13th century). In 1551, Bongeun-sa became the main temple of the Jogye Seon Order, then soon became the main base for the overall restoration of Korean Buddhism. This revived training system produced such illustrious monks as Ven. Seo-san, Ven. Sa-myeong, and Ven. Byeok-am. However, after Queen Munjeong died, Ven. Bo-woo was killed by anti-Buddhist officials.
According to the new state law in 1902, Bongeun-sa was named as one of the 14 main temples in Korea. In 1911, Bonguen-sa became the Head Temple, governing 80 smaller temples located in the capital city and the surrounding area. During heavy floods in 1922 and 1929, Ven. Cheong-ho saved the lives of over 70o people from drowning in the Han River. To commemorate his humanitarian activities, people built a monument in honor of him.

Since that time, Bongeun-sa has continued to receive high praise from the public. When Korea was liberated from Japanese colonial rule in 1945, Bongeun-sa became a direct subordinate to the Secretariat of the Jogye Order, which is the largest Buddhist sect in Korea. Unfortunately, during the Korean War (1950-1953), most of Bongeun-sa's buildings in were badly damaged.

The great bronze bell was cast in 1974, the stone pagoda and stone lanterns were built the next year, and a piece of Sakyamuni Buddha's sarira was enshrined in the pagoda. In 1982, Jinyeo-mun and Daewung-jeon were renovated. Nowadays, with its grand historical background and its unlikely location in urban Seoul, Bongeun-sa is a holy place for worship and practice for about 200,000 lay Buddhists. In addition, Bongeun-sa remains a beautiful, interesting, and comfortable cultural center for all Korean people, as well as for foreigners who visit Korea.
Seonbul-dang (Tangible Cultural Property #64)
Seonbul-dang was a place for the education of precept and doctrinal teaching and for practicing Seon (Zen meditation). It was renovated in 1941.
Pan-jeon (Tangible cultural Property #83)
Bgs034.jpg There are 3,438 wood blocks on which 15 sutras are carved including Flower-Garland Sutra and Diamond Sutra. Ven. Yeong-ki and Kim, Jeong-hui led this project in 1855. The Flower-Garland Sutra (designated Tangible cultural Property #84) is a masterpiece and as one of the few remaining in Korea, it is an important source of studying the history of Buddhism, Buddhist philosophy, and evolution of the Korean language.

Constructed in 1856 to store the wood blocks, Pan-jeon remains the oldest building in Bongeun-sa. It has no fixed walls; only doors and movable wooden panels preserve the wood blocks through proper ventilation. The calligraphy on the board hanging above the entrance is the last piece of artwork by Kim Jeong-hui, written while he was bedridden at the age of 71. Pan-jeon has more cultural value than any other building in Bongeun-sa.
Daewung-jeon
This is the main building of Bongeun-sa, and was renovated in 1982.Inside Daewung-jeon, three Buddha statues are enshrined; Sakyamuni Buddha in the center, Bhaisagya Buddha on His left and Amitabha Buddha on his left and Amitabha Buddha on His right. The calligraphy on the hanging board, written in the middle of the 19th century, is the work of art by Kim, Jeong-hui, scholar and famous calligrapher of Joseon Dynasty.
The Great Statue of Maitreya Buddha
The great statue of Maitreya Buddha was erected in 1996 as the tallest (23 meters) pure-stone statue of Maitreva Buddha in Korea. Construction was started in 1986 by Ven. Young-am to pray for the peaceful re-unification of two Koreas. When the statue was completed, 100,000 paper lanterns were hung and lit to celebrate this event. The courtyard between the statue and Mireuk-jeon is used for various ceremonies and cultural events.
Source