Samhwa-sa is a thousand year old temple, surrounded on all sides by mountains. The temple is located in the Mureung Valley of Dutasan Mountain. Samhwa-sa is also called Mureung Dowon, literally meaning the Arcadia in Peach Tree Garden.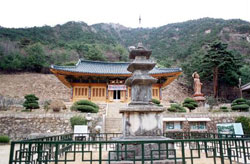 History
The Heungnyeondae Temple was built by Monk Jajangyulsa at Mt.Dutasan in the 11th ruling year of Queen Seondeok of Silla Dynasty during his through tour around Mt. Odaesan area to look for a holy site after he returned from Tang, and today it is called as Samhwasa Temple. 

The temple was repaired several times due to the frequent fires and vanishings that happened there during the later age of Joseon Dynasty. It was moved to a new site 1.3km off to west.
What to see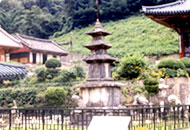 Samhwa-sa Pagoda >>
The pagoda in the Samhwasa Temple compound is the one of a common type which has a 3-story pagoda body placed on a 2-story base platform. The comparatively higher base platform part consists of a four pieces of stone, and has pillar designed carvings at every corner and side center. Above the base platform some additional pile-stones which were inserted to support the pagoda body. The stone-body and the stone-roof were piled up in turn to create a 3-story building in a ladder shape.

Generally it is an elegant and well balanced pagoda which has kept a good feature from the bottom to the top though many cracks and some partial damages were found. It is presumed that this pagoda was built in the later half of the 9th Century when reviewed the unique way to consist the base platform part, and the additional pile-stone s inserted to support the pagoda body part.

A wooden chest was found in the center part of the top base platform when the pagoda was pulled down to move from the front yard of the Grand Hall to the present location on April 1997.

It was reported that 25 pieces of pagoda miniature made of lead and stone, 2 pieces of Buddha statue made of bronze, 6 pieces of steel plate, and a paper document were kept in this chest.
Address
San172, Samhwa-dong Donghae-si Gangwon-do, South Korea.
Tel: 033-534-7661