Located in the quiet suburban town of Yeoju, Gyeonggi Province, the Moka Buddhist Museum is devoted to recapturing the beauty of traditional Buddhist art and exploring its place in modern society. Established in 1993, the country's only museum exclusively dedicated to Buddhist art holds more than 10,000 artifacts -- many of which date back to the Unified Silla Dynasty (668-935) and Goryeo Dynasty (918-1392). It was during these two dynasties when Buddhism flourished.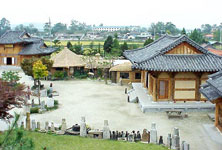 << Moga Museum
The museum holds traditional Buddhist culture classes and annual exhibitions for the development of Korean culture. It also introduces Korean Buddhist materials and invaluable data on woodworking crafts to the public. It has many projects planned to restore Korean traditional arts.
What to see
The museum itself more closely resembles a quiet Buddhist monastery than a exhibition building. After entering the front gate made of massive granite, visitors are confronted with towering Maitreya figures that were sculpted by Park. Around a small artificial pond, modern adaptations of Buddhist art are scattered about. One in particular is the white-clad Avalokitesvara Boddhisattva, a colossal three-story pagoda.

The main attraction is located on the second floor. It showcases more than 200 items, such as palanquins, wooden drums and statues, that were recovered from the ruins of Buddhist temples. Many of the artifacts date back to the Silla, Goryeo and Joseon Dynasties. Three designated ?national treasures? are also displayed.

The third floor features a collection of wooden Buddhist sculptures, many of which were created by Park. The basement has an indoor theater that plays the documentary "The Wood That Wished to Become a Buddha." The film outlines the history of Korean Buddhist sculpture.

Mok-a Buddhist Museum Many wooden works of Buddhist art are exhibited here, the only one of its type in Korea. The aim of this museum is in inheriting Buddhism art and the know-how. Mog-a means the bud of a tree. It is also the pen name of Park Chansoo (Intangible Cultural Treasure #108), a Buddhist artist. the grounds contain a Remains Exhibit House, Buddhism Culture School, Outdoor Exhibition Place, Outdoor Wedding Place, a traditional tea shop and restaurant, and a place for worship. It is a complete place for Buddhist culture.

Exhibited works include the Statue of Bud, 500 Disciples of Buddha, tools for wood carving, and over 5,000 other items related to Buddhism.
Other Information
Tel: (031) 885-9952~4 | Fax: (031) 885-9951
Location
395-2 Iho-ri, Gangcheon-myeon.
Source