Bongwon-sa was originally built on the site of today's Yonsei University (the former site of Yonhi Palace) by Great Master Dosean in 889. The temple moved to the current site in 1748 through the efforts of high monk Chanjeub and Zen master Jeungarm, with the help of the King's authority. The present signboard on was autographed by Jeong Dojeon, a great Confucianist. Afterward, Jeongjo the Great had established Chilgyu-Jeongso, an institude for regulating monk's discipline and promoting Buddhist society, at this temple.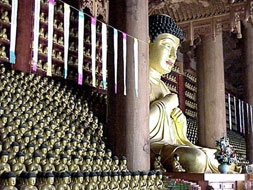 Bongwon-sa has come to grandeur owing to continuous reconsruction. The current appearance comes from changes made in 1911 by Yi Bodam, the abbot of this temple. In December 1945, Kim Giwol, Kim Unpa, and all the resident monks of this temple contributed to build a large scale shrine to commemorate of Korea's Indendence. Unfortunately, it was destroyed during the Korean War. In 1966, Choi Yungwoi (the abbot at the time) established the present main shrine on the former site.

As the head temple for the T'aego order of Korean Buddhists, which is the authority order of Korean Buddhist society, it has many cultural traditions. Residing on the temple grounds are Yi Manbong (Human Cultural Asset #48 in painting) and Park Songam (Human Cultural Asset #50 in Buddhism Song). Bongwon-sa currently is making great efforts for missionary work and has many Buddhist Groups- the Bongwon Buddhist Student Association, Kwaneum Layman Association, and Ogcheon Buddhism Song Research Institude.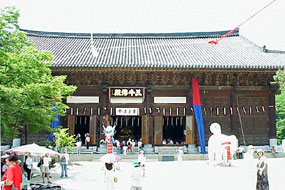 Yeongsanjae
Yeongsanjae, composed of various types of dance and ceremonies, is a purified re-enactment of the historical sermon of the Saddharma Pundarica Sutra by Buddha. Designated as Important Intangible Cultural Property #50, the participants in this traditional rite pray for reunification of South and North Korea and peace in the world. Spectators get a unique chance to experience many aspects of authentic Korean Buddhist culture, including vegetarian foods.
Dates
- the 5th day of the 5th lunar month (Tano Day)
- the 1st and 3rd Saturday of each month at 18:00 (17:00, Nov.-Mar.)
- special performances when more than 30 persons make a reservation for a group tour
Other Information
Tel: (02) 392-3007
Source