Sitting at the foot of Mt. Goryeongsan (622m), 6km from Byeokje Station, Bogwangsa Temple was built by a great monk named  "Doseon" by the royal  command in the eighth year of Queen Jinseong"s reign (894 A.D.) during the Shilla Dynasty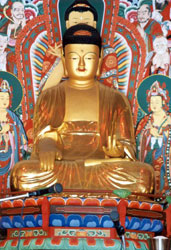 << Seated wooden buddha statue in Bogwangsa Temple
The temple was burnt down during the Japanese Hideyosi invasion of Korea, but restored in the sixth year (1730 A.D.) of King Yeongjo"s reign during the Joseon Dynasty so that the king could pay tribute to his dead mother, Queen Choi, Sukbin.
History
Bogwangsa, the cradle for practical Buddhism, is a thousand year old temple located in the foothills of Goryeongsan Mountain in Paju. During the reign of Queen Seondeok in the Silla Dynasty, the Venerable Doseon Sunim founded the temple under orders of the queen. Since then, it has been regarded as one of the six greatest temples north of the Hangang River. It used to be the favored temple of the royal concubine Choe in the Joseon Dynasty, who was the natural mother of King Yeongjo.

During the Goryeo Dynasty, National Teacher (Guksa) Wonjin expanded the temple, and Great Master (Daesa) Beopmin enshrined five statues of Buddhas and Bodhisattvas here. Great Master Muhak further expanded the temple in the Joseon Dynasty. In 1592, however, it was ruined during the Japanese invasion of Korea, and more efforts were made to rebuild it yet again. In modern times, Bogwangsa sustained huge damage during the Korean War, and the postwar reconstruction project was undertaken on a large scale. The Gwaneumjeon Hall was rebuilt, and the Manseru Pavilion was dismantled and then restored.
Bogwangsa today
Over the years, Bogwangsa has thrown away all the authority and privilege endowed by the royal family as their favored temple. The temple is now living together with the people, carrying forth the thousand year old Buddha Dharma. It is working hand in hand with those who are alienated socially, economically, or culturally. In order to protect their given rights, the temple also opened a school of practical Buddhism to educate lay Buddhists and to share a common joy with them.

Bogwangsa is seeking to solve various problems in Korean society, as well as practicing for the highest virtue to embody the Buddhist Pure Land on earth. It established the first Buddhist NGO Cultural Center within a Korean temple, providing direct and indirect support for NGO activists through education, conferences, and temple stay programs.
Address
Bogwang-sa
Yeongjang-ri, Gwangtan-myeon, Paju-si, Gyeonggi-do.
Tel:
031-948-7700