Address
Saddhamma Ransi Meditation Centre
7 Zeyar Khemar Road, Mayangone 7SHP, Yangon (Rangoon), Myanmar.
written preregistration recommended!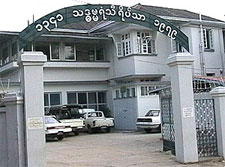 Description
The Saddhamma Ransi Centre is a small but select center in a relatively quiet area a bit outside Yangon. It has a beautiful dhamma hall and several smaller buildings. Yogis are mainly Burmese.
Spiritual Guidance
Ven. Sayadaw U Kundala is considered one of the most notable teachers in the tradition of Mahasi Sayadaw and for a while was head of the Mahasi Center. Sayadaw U Kundala has years of experience with Western practicioners and in Myanmar is called "Metta Sayadaw" because of his friendly attitude. Because he teaches a lot elsewhere, he is often absent from the center.
Meditation Technique and Schedule
Observation of body, feelings, mind, and mind objects. Usually, primary object of contemplation during sitting meditation is rising and falling of the abdomen. Several times per week there is an interview with the meditation teacher. The center has a less stringent timetable than other centers of the Mahasi tradition. Instead of the usual minimal 12 hours of practice "only" 8 are expected. A stay of one to three months is recommended.
Language(s)
During the interviews a translator is present because the teachers speak little English.
Course Duration and Dates
Since there are no group retreats, there are no special dates to adhere to.
What to Bring
Insect repellant, water disinfectant, and medication should be brought in sufficient quantities from at home. A light sleeping bag and a warm fleece jacket are useful during the winter months. Sitting pads are available, but a pillow for sitting should be brought. Items of daily use such as toiletries, flashlight, batteries, flip-flops, and water bottle can be bought in Yangon.
Costs
The center is supported exclusively with donations and is therefore dependent on the voluntary support of the visitors.
Rules
Participants commit themselves to the eight silas (moral precepts). Clothing should be decent and comfortable (no shorts or tank tops). Traditionally, white blouses and shirts are recommended. Men and women wear a longyi (sarong or wrap-around skirt) which can be obtained in Yangon.
Climate and Best Time To Go
Tropical climate, the best time to go is the cooler dry season from November to February (from March very hot).
Immigration
Visa mandatory. Tourist visa is valid four weeks. If you want to enter with a meditation visa, you must ask for a so-called sponsorship letter from the center which must be sent to the Burmese embassy together with the visa application. For processing, reckon on about three months. Visa extensions are also possible. Take sufficient passport pictures (about 10) for the various forms.
Note
Because of the less stringent schedule and Sayadaw's friendly manner good for less experienced yogis interested in the Mahasi method. In the center, there are some interesting and pragmatic books by Sayadaw U Kundala (e.g., "Dhamma Ratana").