Address
Mahasi Sasana Yeiktha Meditation Centre
Buddha Sasana Nuggaha Organisation, No 16, Sasana Yeiktha Road, Bahan Township, Yangon, 11201 Myanmar (Burma).
Tel: 95 - 1 - 541971, 545918 | Fax: 289960 / 289961
Internet: www.mahasi.org.mm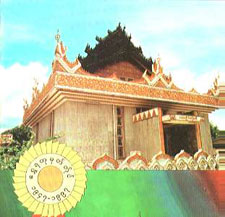 Location
The center is at the Yangon city limits. It was founded in 1949 by Ven. Mahasi Sayadaw. Mainly Burmese yogis practise there. There is an information office where English books by Ven. Mahasi Sayadaw can be bought at a very good price. There are over 100 buildings on the grounds for housing and retreat facilities.
Meditation Technique
Observation of body, feeling, mind, and mind objects. Primary object of meditation during sitting is rising and falling of the abdomen. Several times per week there is an interwiev with the meditation teacher.
Language(s)
During the interviews, a translator is present, because most teachers speak little English.
Duration of Courses and Dates
Since there are no group retreats, no dates need to be observed. Six to twelve weeks are recommended.
Tradition
Theravada, intensive Vipassana meditation according to Mahasi Sayadaw
Lodging
Monks, nuns, men and women are housed separately. Lodging is assigned on arrival. Rooms are either single or double and are furnished with bed and bedding. Toilets and washing facilities are adequate. If possible, foreign meditators get a single room.
What to Bring
Insect repellant, water disinfectant, and medications should be brought in sufficient quantities from home. A light sleeping bag and a warm fleece jacket are particularly useful during the winter months. Bring your own pillow. Items of daily use such as toiletries, flashlight, batteries, flip-flops, and water bottle can be bought in Yangon.
Food
Meals are nourishing, tasty, and varied and are prepared hygienically. Vegetarians will have no problem. Breakfast is at 5:30 a.m. and lunch at 10:30 a.m. Drinking water is filtered, but be cautious. If you want to be on the safe side, bring disinfectant.
Costs
Support of the center is exclusively by donations. Thus, the center is dependent on the voluntary support through participants.
Rules
Participants should dedicate at least 14 hours a day to formal practice (walking and sitting meditation) and limit other activities (e.g., laundry) to a minimum. Reading, writing (except taking notes), walks should be avoided. The eight silas (moral precepts) should be observed. Clothing should be comfortable, practical, and decent (no shorts or tank tops). Traditionally, white blouses and shirts are recommended. Men and women wear a brown longyi (sarong or wrap-around skirt) that can be obtained at the center.
Climate and Best Time To Go
Tropical climate. The cooler dry season from November to February are the best months. From March on very hot.
Medical Care
Hygienic conditions are good by Burmese standards. Malaria risk is low. Medication is scarce and must be brought in sufficient amounts (antibiotics, Halfan, first-aid kit). A few times a week a doctor is present.
Immigration
Visa mandatory. Tourist visa is valid four weeks. If you want to enter with a meditation visa you must ask for a so-called sponsorship letter from the center which must be sent to the Burmese embassy together with the visa application. For processing, reckon on about three months. Visa extensions are also possible. Take sufficient passport pictures (about 10) for the various forms.
Note
Suitable for serious meditators with retreat experience desiring intensive practice. There are some interesting books at www.mahasi.com.