Ananda Oakkyaung Monastery is located in Old Bagan. It was built during A.D 1137. Ananda Okkyaung Monastery simply meaning Brick Monastery. This is situated within the compound of Ananda Temple. It is a small red brick building. The inside walls are covered in 18th century paintings depicting Buddha's life and elements of the history of Bagan. The paintings describes that the monastery was built by three brothers.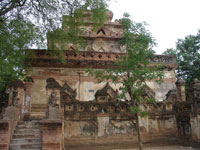 Ananda meaning Eternity and the first vulnerable monk who resided in this monastery was Shin Thuddhamma Linkara and he died at the age of 69.

During the reign of King Kyanzittha, the vulnerable monk was granted with a place where he could stay in peace and meditate.
Source