Address
Dhamma Joti Vipassana Centre
Wingaba Yele Kyaung, Nga HtatGyi Pagoda Road, Bahan Township, Yangon, Myanmar.
Tel: 0095-1-549290 / 546660

Contact: Mr Banwariji Goenka, Bandoola International Ltd.
Office No 134, Shwebontha Street, Yangon, Myanmar.

Tel: 0095-1-72467 / 248174 / 248175 | Fax: 289965
299 Bosundat Street, Yangon, Myanmar.
Tel: private 0095-1-524983 | Office: 281277
E-mail: BANDOOLAMYANMAR@mtp400.stems.com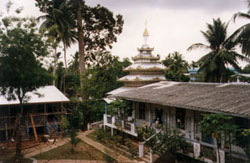 Tradition
Vipassana according to U Ba Khin, S.N. Goenka Centre.
Course Duration and Dates
Usually, 10-day courses are offered. Advanced registration necessary. Schedule and application form can be ordered ahead of time.
Focus
Silent retreats with intensive sitting meditation and a daily lecture.
Meditation Technique and Schedule of Retreat
The first three days Anapanasati, i.e. observation of breath. Concentrating on inhaling and exhaling. Breath is only observed, not manipulated. From day three, Vipassana meditation in the tradition of U Ba Khin. In the "step by step"-or "body-sweeping" method the bodily sensations are systematically observed. After the body is scanned from head to toe, another round is performed in the opposite direction. Sensations are not judged but only observed. The course ends with an exercise for the development of loving kindness.
Teacher and Guidance
After 14 years of practice, his teacher U Ba Khin gave S.N. Goenka teaching permission in 1969. Goenkaj is from a wealthy Indian industrial family and grew up in Burma where he was raised in the Hindu tradition. Today he lives in India. Since there are more than 50 centers world-wide which adhere to this tradition, Goenkajs instructions are presented on video or audio tape.
Language(s)
Burmese and English. Center manager U Hlacho speaks good English.
Food
Vegetarian; if you want to be sure about water potability, bring own disinfectant.
Rules
All participants commit themselves to stay for the entire retreat, to adhere to schedule, to keep silence, not to read and write. Sexual activities are to be discontinued for the duration of the retreat and the five or eight (old students) silas (moral practice precepts) to be adhered to. Clothes should be comfortable and decent (no shorts and tank tops).
Climate and Best Time To Go
Tropical climate. The cooler season from November to February (from March on very hot) is best.
Costs
The center is supported exclusively with donations and is therefore dependent on the voluntary support of the visitors.
Immigration
Visa mandatory!
Note
Well suited for serious practitioners with retreat experience desiring intensive practice. Also suited for beginners who have no problem sitting for long periods of time and who are ready to submit to an intensive and stringent daily schedule.