Address
Chanmyay Yeiktha Meditation Centre
55A, Kaba Aye Pagoda Road, Mayangone P.O., Yangon 11061, Myanmar.
Tel: 0095-1-661479 | Fax: 0095-1-667050,
Internet: www.chanmyay.org
E-mail 1: chanmyay@mptmail.net.mm | E-mail 2: chanmyay@pacific.net.sg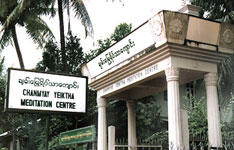 Description
The Chanmyay Yeiktha Meditation Centre is by the main road to the airport. It was founded in 1977 by the Ven. Sayadaw U Janaka, one of the most notable disciples of Mahasi Sayadaw. He acted also as the translator for Mahasi Sayadaw on his trips to Europe and the U.S. The center consists of a number of buildings, amongst others a four-floor building for foreign meditators. On the four floors there are single rooms for women and men as well as separate meditation halls. The office to the right of the entrance is your first contact.
Spiritual Guidance
Sayadaw U Janaka was born in 1928 and is still in good health. He speaks English very well. Since 1967 he has been a meditation teacher, first in the Mahasi center and from 1977 in his own center. Since 1981 he goes abroad twice yearly to teach meditation courses in various countries.
Meditation Technique
Based on Mahasi Sayadaws method of Vipassana meditation/insight meditation. Formal meditation is in turn sitting and walking; durations are adjusted according to individual level. Primary object of meditation is the rising and falling of the abdomen. Much value is placed on the development of a continuous and uninterrupted mindfulness in all activities of daily life, that is, all activities outside of formal meditation. Hence all movements during eating, dressing, getting up etc. are done consciously slowly in order to be mindful at any given moment.
Language(s)
Individual interviews and lectures in English. Sayadaw U Janaka and another Sayadaw in charge of the foreigners speak English well.
Course Duration and Dates
Since there are no group retreats no dates need to be observed. You can join any time. Minimum stay is 10 days. For maximum, sky's the limit.
Lodging
Foreigners live in the new four-floor building. Clean single rooms are available. Common modern showers and toilets. Washing machine. Each room contains a bed and a table. Mattress, sheets, blanket, mosquito net and thermos are provided by the center.
What to Bring
Insect repellant (Yangon is malaria-free), personal medication, warm sweater and socks for the cooler season (November to February), sitting pillow. Most articles of daily use (soap, toothpaste, flashlight, batteries) are available in Yangon.
Food
Two abundant meals daily. Breakfast is at 5:30 a.m. (full meal with fried rice or noodles and noodle soup as well as fruit, cake, coffee, tea) and lunch at 10:30 a.m. (rice with five to seven different curries, fruit, desserts). You can choose between vegetarian and nonvegetarian food. Evenings, fruit juice around 5 p.m. You can fill your thermos with hot water during mealtime. Clean, filtered drinking water is available.
Costs
The center is supported exclusively with donations.
Medical Care
Medical doctors visit the center regularly to treat the meditators for free. Western and traditional Burmese drugs are available.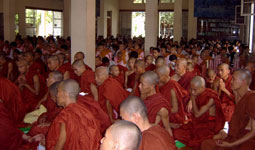 Rules and Clothing
All meditators practice from 3:30 a.m. to at least 9:30 p.m. and must observe the eight silas. Temporary ordination is possible for women and men. During the retreat meditators keep noble silence and do not read and write (except short notes for the individual interviews). Walks outside the center are prohibited and the center is left only in emergencies. Therefore, you should provide for all contingencies ahead of time. E-mail and fax use is also only permitted in emergencies. Burmese yogi attire is recommended: white/light blouse or T-shirt and brown longyi (sarong) for women, white/light shirt or T-shirt and brown longyi for men. You can buy these things there easily and at a good price or borrow them from the center.
Climate and Best Time To Go
Tropical climate. Best go in the cooler season from November to February.
Immigration
Visa mandatory. Tourist visa is valid for four weeks. If you want to enter with a meditation visa you must ask for a so-called sponsorship letter from the center which must be sent to the Burmese embassy together with the visa application. For processing, reckon on about three months. Visa extensions are also possible. Take sufficient passport pictures (about 10) for the various forms.
Note
Foreigners are treated very courteously.
Branch Monasteries
Chanmyay Yeiktha (Forest Centre in Hmawbi)
Shansu, Hmawbi, Myanmar.
Tel: 0095-1-620321
Chanmyay Yeiktha (Pyin Oo Lwin)
Toe Gyi Koun Village, near Anee Sakhann railway station
Pyin Oo Lwin, Myanmar.
Tel: 0095-85-22457
Chanmyay Yeiktha (Hinthada)
Targlay Quarter, Hinthada, Myanmar.
Tel: 0095-44-21838
Chanmyay Yeiktha (Lei Way), Lei Way Myo, Myanmar.
Abroad
Dhammodaya Chanmyay Yeiktha Meditation Centre
45/1 MU4 Tambol Tanon Krad, Ampur Muang
Nakon Pathon 73000, Thailand.
Tel: 0066-1-8109632 | E-mail: dhammodaya@hotmail.com
Sitalarama Vihara
Myanmar Buddhist Temple, 69 Martin Valley Road N.E
Calgary, AB T3J 4L9, Canada.
Tel: 001-403-5687205
Dhammodaya Myanmar Vihara, 30 Mackay Drive,
Ashburton, Petermarizberg 3200, South Africa.
Tel: 0027-33-3261463 | E-mail: mabasa@iafrica.com