Pahtothamya Temple is popularly held to be one of five temples built by the non-historical King Taungthugyi (931-964) referred to history. But some of the archeologists also mark that it was built by King Sawlu by the references of the wall paintings which dates back only to the 11th Century.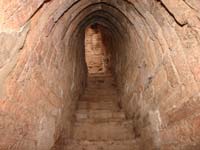 King Taungthugyi was also known as Nyaung U Sawrahan. This temple was known to have been built like one of those in Thaton. Therefore, the temple compose of many Mon style paintings in the inside. But the temple was renovated during the reign of King Kyanzittha (1084-1113).

Pahtothamya temple has a long hall which lengthens towards the East. This monument has a harmonious proportion, having a height of 26 meter, 30 meter on the side and the hall has 17m of length.

The interior of this single-storey building is dimly lit, typical of the early type of Pyu-influenced temples with their small, perforated stone windows. In its vertical superstructure and lotus-bud sikhara, however, the monument is clearly beginning to move forward from the Early period.

Painting remnants along the interior passages may rate as the earliest surviving murals in Bagan. There are four smaller temples surrounding Pahtothamya Temple and inside theses temples are magnificent artistic Buddha Images.
Nearby Attractions
Nathlaung Kyaung
The Nathlaung Kyaung (or Nat-hlaung-kyaung), located slightly to the west of Thatbyinnyu and inside the old city walls, is the only remaining Hindu temple in Bagan. It was believed to be build during (A.D 931-964). In the early days of Bagan, people used to believe in Hinduism, and worshipped Vishu, Brahman and many other Hindu gods. This used to be a place to worship those gods. But afterwards, King Anawrahta brought Theravada Buddhism to Bagan with the conquest of Thaton, and made the Hinduism vanish. It clearly is one of the earliest of the Bagan temples.
Ngakywenadaung Paya
Nga-kywe-na-daung is a medium size early Pyu type brick masonry stupa. Its date of construction remains uncertain. On the external walls and each face had been carved in brick the ten misadventures of Vishnu. These statues were placed upright in niches decorated with the pilasters. The murals are contemporary sculptures. The center of the temple is occupied by an enormous brick mass surrounded classically bricks. It is this mass which supports the dome and will sikhara it. The name even of the temple is curious, it means: "the temple where the spirits are confined" and perhaps announces a relation with the nats, which had taken refuge here, not being able to do it in a traditional Buddhist temple.
Source