Bezeklik Thousand Buddha Caves are found on the cliffs, 50km (31 miles) east of Turpan. The bizaklik Thousand-buddha Caves became an important cultural unit protected by the state in 1961.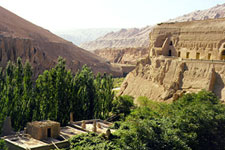 Turpan is located three hours drive East of Urumqi in China's Far Western Xinjiang Province and is an important historic and cultural town. Sited some 250 miles inside the Taklimakan Desert, it is essentially a man made oasis - developed by the ancient traders who channeled melt water from the Tian Shan Mountains some 500km away underground to Turpan in order to provide a rest and watering place for the caravanesi traveling from Europe, The Middle East, Africa and Central Asia across the deserts to reach China proper and conduct trade.

You get to Turpan by flying to Urumqi then getting a taxi - an interesting route across one of the worlds most barren and inhospitable areas with temperatures reaching the high 40's. Turpan is right in the middle of the Tarim Basin - the second lowest place on earth. The Taklimakan is actually the bed of an ancient sea, so irrigating the soil produces tremendous results in crops. Honey Melons, known internationally, actually originate from the nearby town of Hami, while Turpan itself is famous for it's quite superb grapes. And when you mix grapes with lots of sunshine and a thirsty population you eventually get wine production: Turpan is home to China's finest wines, some of which are quite excellent. Turpan has a "grape valley" in which nothing but vines are grown and significant investments have been made by French viniculturists. It's possible to visit the several vineyards there, under the shade of the vine leaves, and enjoy several glasses of local wines with the local cuisine of fresh salads, lamb kebabs and fruit. Wines vary from acceptable dry reds (Lou Lan is good and has some vintages) to sweet dessert wines similar to Hungarian Tokay. Some of the branding is a bit odd ("Scent of a Woman" wine is actually a great buy and a very passable dessert wine that would not disgrace any fine restaurant) but the product is great - a far cry from the normal unimaginative Great Walls and Dragon Seals that are commonly served elsewhere - this is a wine lovers treat.

The vineyards will sell by the bottle or case - you can also order direct and they'll arrange delivery.

Back in Turpan, here is one hotel that is head and shoulders above the rest: the new Xi Zhou Da Jiudian (995-855-4000) is quite nice. For under 300 RMB you should be able to get a very nice room. The Oasis Hotel used to be the place to stay and is still a decent option(tel: 0995 852 2491). For food the night markets are fantastic, just past the Xi Zhou Hotel.

Outside, the streets are lined with palm tress and the inevitable vines, with the melt water now rising in channels either side of the street and open to keep the air temperature down. Closeby historical sites to visit include Gaocheng, an ancient city that was sacked by Genghis Khan, it's a world heritage site. Bits of ancient broken pottery still lie in the sand amongst the ruined houses and temples. Sandstorms occur daily here for twenty minutes at a time so take a cotton scarf or a hat to place over your mouth if caught out. Take cover and wait for it to blow over. - you'll have warning as the wind picks up, the skies darken and you can see it coming across the horizon.

There are several other lost cities dotted about and accessible, but always take a guide - wandering about in the desert is only for those who know it well, and not for nothing did the Taklimakan get it's name, which translates as "Go In and Don't Come Back Out" - it still claims the lives of unprepared explorers even today.

Closer to Urumqi - the Tian Shan Mountains themselves are also just a two hour drive and well worth a visit (we'll cover them in a later issue) and the museum at Urumqi has an excellent collection of silk road artifacts. But for a weekend away - The vineyards at Turpan are well worth the effort. "Hosh" is the local toast meaning "Cheers !" Have fun !