The Tiantishan Grottoes are situated on the Huangyang River, about 60 km south of Wuwei (originally Liangzhou) and Twere excavated during the Northern Liang dynasty (397–439 CE).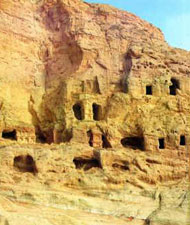 Carving and decoration of the grottoes continued throughout the Northern Wei, Tang, and Ming dynasties, leaving many precious cultural relics inside these grottos.

On the basis of the style, content, and inscriptions on the wall paintings and landforms, archaeologists believe that the Tiantishan grottoes may be the Liangzhou grottoes mentioned in historical documents, such as the Fa Yuan Zhu Lin. According to historical records, the Liangzhou grottoes were ranked with the Yungang and Longmen grottoes as the three major cave temple sites to have exerted profound influence on the development of Chinese painting and sculpture.

If the Tiantishan and Liangzhou grottoes are actually one and the same, research and protection of this site becomes even more meaningful and important. Because of the construction of the Huangyang River reservoir in 1960, the Gansu People's Government approved moving the wall paintings and polychrome statues of the grottoes, with the exception of seven cli? statues, to the Gansu Provincial Museum for preservation. In conjunction with the restoration and conservation of the Tiantishan relics, the authors collected and analyzed ninety-six samples from the Northern Liang, Northern Wei, Tang, and Ming dynasties and performed comprehensive analyses of their pigments.