Located eight kilometres west of Jietai Temple, Tanzhe Temple has seen numerous monks practice their Buddhist art for the rest of their lives here, thus leaving many pagoda tombs in different styles close by the temple.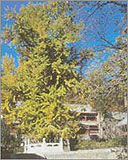 Probably the best known is the one of Princess of Miaoyan, daughter of Kublai Khan, of the Yuan Dynasty. In order to redeem her father from killing so many people in battles, she converted herself to Buddhism, and spent the rest of her life here. Her pagoda tomb is a solid brick five-storey construction with elaborate eaves, with a smaller pagoda on each side for company.
Master Dehuada's tomb is a solid stone pagoda like an upside-down bowl, constructed entirely of carved white marble, granite and other precious stones, eye-catching and very different in colour from others in grey. The tombs provide an informational resource, both in written language and real objects, to the study of Buddhist pagoda evolution.