Located in the west of Henan Province in central China, Luoyang occupies quite an important geographic location. It is in the middle reaches of the Yellow River and is encircled by mountains and plains. To its east and west are the Hu Lao Pass and Han Gu Pass which were essential domestic transportation junctions in ancient times. To its north, Mengjin County was an important ferry crossing of the Yellow River.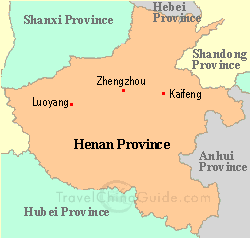 Thus, Luoyang was selected as the capital city by 13 dynasties starting from the Xia Dynasty (21st-16th century BC) in the 21st century BC. In the period following the Han Dynasty (206BC-220), and particularly during the Sui (581-618) and Tang (618-907) dynasties, the city experienced a period of growth and prosperity and ranked as one of the international metropolitans of the time.

The city is also famed as the 'Poets Capital' as poets and literates of ancient China often gathered there and left grand works, including 'Book of Wisdom' ('Daode Jing'), 'Han History' ('Han Shu') and 'Administrative Theory of Admonishing Official' ('Zi Zhi Tong Jian'). 

Religious culture once thrived here. Taoism originated there and the first Buddhist temple set up by the government was located there. Luoyang is also the hometown of many of the scientific inventions of ancient China, such as the seismograph, armillary sphere, paper making, printing and the compass.

Luoyang has rich historical and cultural Buddhist sites. Among them are:

- The Longmen Grottoes are one of China's three most precious treasure houses of stone sculptures and inscriptions. 
- The White Horse Temple is the first Buddhist temple and is honored as the 'Cradle of Buddhism in China'. 
- Shaolin Temple is the place of origin for Chinese Zen Buddhism and the cradle of Chinese Martial Art.
Recommended Restaurants Special in Local Dishes
Luoyang Zhen Bu Tong Restaurant
No.359, East Zhong Zhou Road, Lao Cheng District
Quan Fu Restaurant: north section of Wang Cheng Street

Moslem Food Restaurant
Dong Lai Shun Restaurant: No.11, middle Zhong Zhou Road
Western Restaurants
Hai Jing Westerin Restaurant
2nd floor, No.1 Building, Tong Yuan Garden, West Kai Xuan Road

Bi Sheng De Pizza
middle section of Shanghai Market Pedestrian Street, Jian Xi District

Toronto Western Restaurant
Shen Tai Mansion (A), Nan Chang Road, Xian Xi District
Cafés
Ming Tian Coffee Language
No.19, Tang Gong Road, Xi Gong District

Dio Coffee
where South Sha Chang Road and Kai Xuan Road meet in Xi Gong District
Shanghai Market, Xi Yuan Road