Shoren-in Temple is a delightful and quiet temple that exudes a palpable feeling of tranquility. It is only steps away from the bustling streets of the Higashiyama district, yet when one crosses the threshold of the temple's front gate it is as though one has stepped back into simpler, more peaceful times. You can sit and sip green tea while contemplating the first of its four gardens, enjoying the play of light upon the maple and cherry tree leaves, flowers, and moss.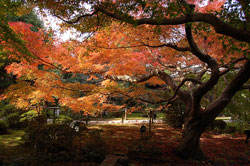 Also known as the Awata Palace, Shoren-in was formerly the temple of the imperial abbot of the Tendai headquarters on Mount Hiei.

Shoren-in Temple's four gardens are famous in Japan, each attributed to a different luminary of Japanese landscape architecture. The gardens are sometimes illuminated at night, and on occasion are the setting for traditional koto(Japanese zither) concerts.

The temple itself is famous for its statuary, as well as for its place in Japanese history. Shoren-in Temple protected the priests Honen and Shinran, who were developers of new Buddhist sects in the 13th Century. Contemporary followers of these sects regard the temple as a particularly sacred place.
Source
Kyoto Tourism Council (Japan) (c) 2007
Address
69-1 Sanjobo-cho Awataguchi Higashiyamaku, Kyoto.
Tel: 075-561-2345