Hokan-ji Temple is known colloquially as Yasaka-no-to (Yasaka Pagoda). It is a 40-meter tall pagoda with graceful, sloping roofs on each tier. It is situated in the eastern quarter of Kyoto, between Yasaka Shrine and Kiyomizu Temple. It is to Kyoto what the Eiffel Tower is to Paris - the eternal symbol of a city steeped in history and culture.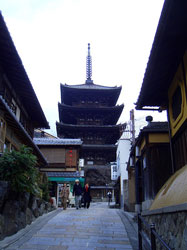 << Hokan-ji Pagoda, Kyoto
History
According to historical records, it was constructed by Prince Shotoku Taishi (exact date unknown) in dedication to Buddha. In 948 AD, it was realigned in a massive reconstruction project after starting to lean precariously to one side. Unfortunately, it could not escape calamity for very long.

In 1179, the pagoda was burned down during a squabble between the rival forces of Kiyomizu Temple and Yasaka Shrine. It was re-erected in 1191 under order of Shogun Minamoto Yorimoto but destroyed by fire in 1291, and again in 1436.

The present structure was re-erected in 1440 by Shogun Yoshinori Ashikaga and has remained standing ever since. Unlike the grandeur of the original temple grounds centuries ago, Hokanji Temple sits on a modest plot of land lined by machi-nami (row houses) and souvenir shops.

Standing 46 meters high (151 feet), Yasaka Pagoda is registered as an important cultural property. It is built around a single, massive wooden shaft which runs the entire height of the structure. Another interesting design feature is the complex system of inter-locking joints which support the weight of the five, heavily-tiled stages.

Visitors who venture inside are greeted by four intricately carved wooden statues of Buddha positioned around the central shaft, each solemnly facing the four corners of the world.

Brave visitors can climb a series of steep stairs to the top of the pagoda and peer out tiny windows to see the urban sprawl of 21st century Kyoto.

Though the view outside is lacking, the small discoveries within are worth the effort. When your eyes adjust to the darkness, you'll find fading images from an age long past elaborately painted on every wall.

The well-attended garden surrounding the base of the temple offers a shaded place for visitors to enjoy viewing the main pagoda.

Although other historical sites like Kinkaku-ji (Gold Pavilion) attract far more visitors, Yasaka Pagoda is only a 5-minute walk (west) off of Ninen-zaka - the famous street leading up to majestic Kiyomizu Temple.
Source
Japanese Pottery and Ceramics, Kyoto.
Address
388 Yasaka Kami-cho Kiyomizu Higashiyama-ku, Kyoto.
Tel: 075-551-2417 | Fax: 075-551-2417