Daikaku-ji is an Esoteric Buddhism temple, located in Saga, Kyoto. It is a small and understated temple complex, boasting several small, secluded subtemples. Daitokuji is the quietest of the temples in north-western Kyoto.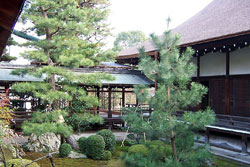 History
The Daikakuji Temple was originally the detached palace of Emperor Saga. In 876, his daughter Empress Seishi renovated the palace as Daikakuji temple and appointed her son, Imperial Prince Gojaku as the first chief priest. The temple inherited the doctrine of the monk Kukai, also known as Kobo-Daishi, whose faith Emperor Saga embraced.

The Shinden (palace for the emperor's daily use) has been designated an Important Cultural Property by the Japanese government, and the entire temple grounds are also designated a national historic site. Today, Daikaku-ji attracts many worshippers as a seminary for study of the Han'nya-Shingyo, a Buddhist sutra.
What to see
In the temple, you can see many famous fusuma paintings that belong to the Momoyama period, as well as various collections of cultural treasures. In addition, Daikakuji is also noted for its Shakyo Ashram (transcribing sutra) and Saga Goryu, the school of Ikebana.
Address
4 Saga, Osawa-cho, Ukyo-ku, Kyoto, Japan.
Tel: +81(0)75 871 0071