Daigo-ji, a Shingon Buddhist temple located in southeastern Kyoto, was founded in 874 by Shobo, who gave it the name Daigo (meaning the ultimate essence of milk). This refers to the five periods of Buddha's teaching, which were compared to the five forms of milk prepared in India - the highest form is called "daigo" in Japanese. The temple was expanded into a vast complex on two levels, Shimo Daigo (lower) and Kami Daigo (upper).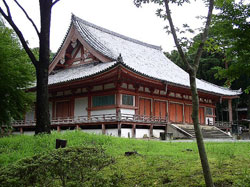 History
Built in 951, the Gojuno-to pagoda is treasured as the oldest of its kind in Japan and is the oldest existing building in Kyoto. In the late 16th century, Hideyoshi took a fancy to Daigo-ji Temple and ordered extensive rebuilding.

During the 15th century, those buildings on the lower level were destroyed, with the sole exception of the five-story pagoda. Several structures, including the kondo and the five-story pagoda, are National treasures of Japan. Including buildings and other works, the temple possesses 18 national treasures, and several dozen important cultural assets.
What to see
Daigo-ji is one of the Shingon school's main temples. To explore Daigo-ji Temple thoroughly and at a leisurely pace, mixing hiking with temple-viewing, you will need at least half a day. To get here, walk up the large avenue of cherry trees, through the Nio-mon gate, out the back gate of the lower temple, up a concrete incline and into the forest, past the pagoda.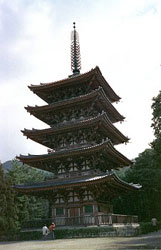 << Photo: Daigo-ji pagoda
Sanboin is a large wooden building constructed in 1115 as the residence of Daigoji's archbishop. It includes a beautiful Japanese garden which was built for Toyotomi Hideyoshi's famous hanami (cherry blossom viewing) party of 1598.

In the Shimo-Daigo area of Daigoji stand most temple halls and structures including Kyoto's oldest building, a five storied pagoda dating from 951, and the Bentendo, a much photographed small temple hall to the goddess Benten.

Visitors can also hike up to Kami-Daigo, the place where Daigoji was originally founded. The walk up takes about 45 minutes. 

Daigo-ji was designated an UNESCO world heritage site in 1994
Address
22 Daigo-Higash-oji-cho Fushimi-ku, Kyoto.
Tel: 075-571-0002 | Fax: 075-571-0101