Chishaku-in is the main temple of the Chisan School Shingon sect. There are about 3,000 branches all over Japan.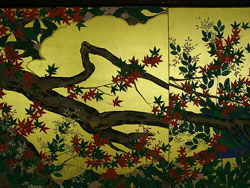 << Screen at Chishakuin Temple
Chishakuin Temple is best known for its panel paintings and its gardens. It is along a well-trod route, just across the street from the Hyatt hotel and Kyoto National Museum, and a short walk from Sanjusangendo.
History
The temple was originally built in Wakayama in 1585, which is far south of Kyoto, in memory of Toyotomi Hideyoshi's son Sutemaru, who died at age three. It then flourished as a centre for Buddhist studies and training. 

The Main Hall was destroyed by fire during the Meiji period (1868-1912) and rebuilt in 1975. Sliding screens with paintings of cherry and maple trees are on display. These National Treasures were created by Hasegawa Tohaku (1539-1610, founder of the Hasegawa School).

The main garden was rebuilt in 1674 but later destroyed by fire. The garden was inspired by the area around Mt. Rozan, in China.
What to see
In addition to the gardens, the paintings are the main attraction. They are done on panels and are thought to be the work of Hasegawa Tohaku and his son, Kyuzo.

About half of the original paintings remain. Within the temple, "Pine Tree and Flowering Plants, "Cherry and Maple Trees, "Pine and Plum Trees" are in particular magnificent.

Visitors in Kyoto on June 15 should visit the Green Leaf Festival at Chishakuin. This celebrates the birth of founder Kukai. It is a wonderful event that puts on display the mysteries of Shingon. The festival is a fire ceremony, which is a symbolic link between heaven and earth.
Address
964 Higashikawara-machi, Higashioji-dori nijyo-sagaru, Higashiyama-ku, Kyoto city, Japan.
Tel: 075 541-5361 | Fax: 075-541-5364