Kiyomizudera ("Pure Water Temple") is one of the most celebrated temples of Japan. It was founded in 780 and remains associated with the Hosso sect, one of the oldest sects within Japanese Buddhism. In 1994, the temple was added to the list of UNESCO world heritage sites.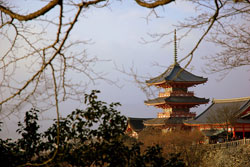 Kiyomizudera stands in the wooded hills of eastern Kyoto and offers visitors a nice view over the city from its famous wooden terrace. Below the terrace, you can taste the spring water, which gives the temple its name and which is said to have healing power.

Behind Kyomizudera's main hall stands Jishu Shrine, a shrine dedicated to the deity of love. In front of the shrine are two rocks, placed several meters apart from each other. Successfully walking from one to the other rock with your eyes closed is said to bring luck in your love live. 

The particularity of Kiyomizu is its broad verandah facing the picturesque forested hills of South-East Kyoto. Tracks run from underneath the temple around the woods and back to the veranda.
History
Kiyomizu-dera Temple was first built over 1000 years ago. It was reconstructed in 1633 and is the most famous temple in Kyoto. The way up to the front gate of the temple is called "Teapot Lane" and is lined with handicraft, omiyage, and sweet shops. It's a huge marketplace of activity and the only reprieve is when you finally make it up the hill to the massive entrance gates of the temple.
Address
294 1-chome, Kiyomizu, Higashiyama-ku.
Tel: 075-551-1234 | Fax: 075-551-1287

Kiyomizudera is situated on approximately 130,000 square meters and consists of over 30 structures.
Asian Historical Architecture
http://www.orientalarchitecture.com/kyoto/KIYOMIZU.htm