Chion-in is the Grand Head Temple atop 7 other head temples of the popular Jodo ("Pure Land") sect of Buddhism, making it one of the most important spritual places in Japan.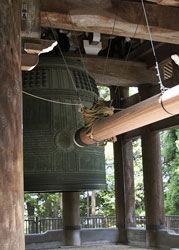 << Bell at Chion-in Temple. Requires 15-17 monks to ring!
The temple was established in 1234 on the site where Honen (the founder of Jodo Buddhism) had taught and fasted to death. Most of the temple complex burnt in 1633 and the current buildings are reconstructions from the 17th century onward.

With 30 million followers, the Jodo sect is the most popular Buddhist sect in Japan, ahead of the Jodo-shin and Shingon sects. Those three sects usually have bigger temples than the others, as shown by Chion-in's massive Dai Hojo Hall and its somptuous gold altar.

The oldest structure on the compound is the two-storey San-mon Gate, errected in 1619. With 24m in height it is the highest temple gate in Japan, just 2m higher than Tofuku-ji's own San-mon Gate.

The 74-tons temple bell is also the largest in Japan. It takes as many as 17 monks to operate it at the New Year ceremony.
Address
400 Rinka-cho, Higashiyama-ku, Kyoto.
Tel: 075-531-2111 | Fax: 075-531-0099